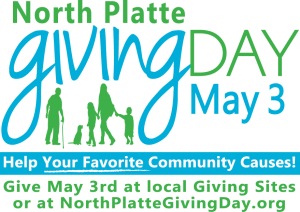 North Platte Giving Day is May 3rd but you don't have to wait until that day to donate. You can pre-schedule your donation starting today (April 26, 2017) for that day (May 3rd, 2017).
Here's how:
Visit the North Platte Giving Day website (https://www.northplattegivingday.org)
Hint: click the Giving Day logo above to go directly to the NPPL Foundation fund
Click Donate Now and create a profile on the website in order choose your fund(s) and schedule your donation
Your donated amount will be paid by the method you choose at midnight on May 3, 2017
Set up your donation today, avoid the rush, and make it count on May 3rd!
---