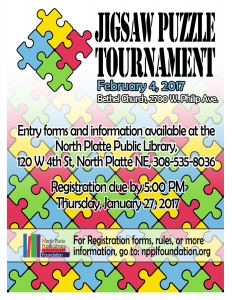 When: Saturday, February 4, 2017
Time: Varies by Competition Division (see below)
Where: Bethel Church, 2700 W Philip AVE
Register Deadline: Friday, January 27, 2017 at 5 pm CT
Entry Fee: $50.00 per person (Adult or Student)
NPPL Foundation members are contacting various businesses and individuals in the community to sponsor the costs of Student puzzlers. We ask that adults either cover their own entry fees or arrange for their own sponsors. If we generate enough sponsorships to help cover Adult entries, we will. If we have an extra puzzle or last minute cancellation, no puzzlers will be turned away. But to ensure we have enough puzzles and guarantee a spot in the competition, please pre-register by the deadline.
This is a fundraising event for the NPPL Foundation, a non-profit organization raising funds for the future benefit of North Platte Public Library. Sponsorships may be tax deductible, please contact your tax advisor.
2nd & 3rd Grade 2-person team (1 hour competition | 100 pc puzzle)
— Register Online
— check-in starts at 9:00 am
— competition begins at 9:30 am
— ALL puzzling in this division ends at 10:30 am (or sooner)
4th & 5th Grade 2-person team (1.5 hour competition | 200 pc puzzle)
— Register Online
— check-in starts at 10:30 am
— competition begins at 11:00 am
— ALL puzzling in this division ends at 12:30 pm (or sooner)
6th – 8th Grade 2-person team (4 hour competition | 300 pc puzzle)
— Register Online
— check-in starts at 12:30 pm
— competition begins at 1:00 pm
— ALL puzzling in this division ends at 5:00 pm (or sooner)
Individual (4 hour competition | 300-400 pc puzzle)
— Register Online
— check-in starts at 12:30 pm
— competition begins at 1:00 pm
— ALL puzzling in this division ends at 5:00 pm (or sooner)
2-Person Team (4 hour competition | 400-500 pc puzzle)
— Register Online
— check-in starts at 12:30 pm
— competition begins at 1:00 pm
— ALL puzzling in this division ends at 5:00 pm (or sooner)
4-Person Team (4 hour competition | 600-750 pc puzzle)
— Register Online
— check-in starts at 12:30 pm
— competition begins at 1:00 pm
— ALL puzzling in this division ends at 5:00 pm (or sooner)